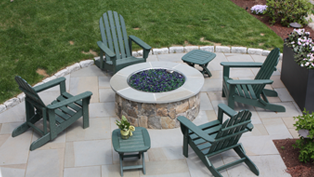 "Every time I drive in the driveway or look out the dining room sliding glass door and see the patio, I am so happy."
–SC, Dover, MA
Distinctive Stone Masonry, Patios, and Sprinkler Systems in Dover, Medfield, Needham, Wellesley and surrounding towns
We go way beyond landscape maintenance. We build environments to make your property a place of wonder and beauty. Imagine an outdoor stone fireplace to keep you warm, a patio to entertainment on, a fence to keep your property secure, or an irrigation system to stay green.
Because we have worked on many exquisite properties through the years, we not only know how to build with expert care and longevity—we know how to build an environment that's right for you and your home.
Quality craftsmanship, built beautifully & sustainably.
Outdoor patios
Stonewall masonry
Outdoor fireplaces & fit pits
Entranceways
Underground utilities
Drainage systems
Gutter installations
Full irrigation system installation &
upgrades (with two-year guarantee)
Want to know how we can help you keep your property beautiful?
Send us an email to info@shlinc.net and we'll respond right away.