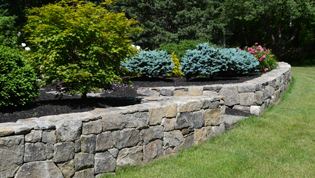 "We couldn't be happier with the design and how the entire project was managed!"
–MF, Brookline MA
Imagine a chef-friendly outdoor kitchen, a tranquil water feature, or picturesque garden design that your neighbors in Dover, Needham & Wellesley will admire.
Ready to be inspired? Or do you know exactly what you want? We will design the perfect outdoor space that you've always dreamed of—and perhaps never considered. Your outdoor space is as much a part of your "home" as your indoor space.Through the years we've designed and developed many exterior features to make fantastic homes all the more fantastic. We know what works, and what doesn't. We'll work with you and your family to design an outdoor space that enhances your home—and your life.
Because we have worked on many exquisite properties through the years, we not only know how to build with expert care and longevity—we know how to build an environment that's right for you and your home.
Creating inspiring outdoor living spaces.
Landscape design
Garden consultations
Exterior lighting
Outdoors kitchens
Stone fireplaces & fire pits
Water features
Fencing (all types)
Site excavation & development
Chimneys
Thinking your outdoor space needs a change? An update? Or a design refresh?
Email us at info@shlinc.net and we'll get back to you right away.